About NABH
National Accreditation Board for Hospitals and Healthcare Providers (NABH) is a constituent board of Quality Council of India (QCI), set up to establish and operate accreditation programme for healthcare organizations. NABH has been established with the objective of enhancing health system & promoting continuous quality improvement and patient safety. The board while being supported by all stakeholders, including industry, consumers, government, has full functional autonomy in its operation.
NABH provides accreditation to hospitals in a non-discriminatory manner regardless of their ownership, legal status, size and degree of independence.
International Society for Quality in Healthcare (ISQua) has accredited "Standards for Hospitals", 3rd Edition, November 2011 developed by National Accreditation Board for Hospitals & Healthcare Providers (NABH, India) under its International Accreditation Programme for a cycle of 4 years (April 2012 to March 2016). The approval of ISQua authenticates that NABH standards are in consonance with the global benchmarks set by ISQua. The hospitals accredited by NABH have international recognition. This will provide boost to medical tourism.
Accreditation Schemes
Benefits of Accreditation
Benefits for Patients
Patients are the biggest beneficiary among all the stakeholders. Accreditation results in high quality of care and patient safety. Credential medical staff services the patients. Rights of patients are respected and protected. Patients' satisfaction is regularly evaluated.
Benefits for Hospitals
Accreditation to a hospital stimulates continuous improvement. It enables hospital in demonstrating commitment to quality care. It raises community confidence in the services provided by the hospital. It also provides opportunity to healthcare unit to benchmark with the best.
Benefits for Hospital Staff
The staff in an accredited hospital is satisfied lot as it provides for continuous learning, good working environment, leadership and above all ownership of clinical processes. It improves overall professional development of Clinicians and Para Medical Staff and provides leadership for quality improvement with medicine and nursing.
Benefits to paying and regulatory bodies
Finally, accreditation provides an objective system of empanelment by insurance and other third parties. Accreditation provides access to reliable and certified information on facilities, infrastructure and level of care.
NABH Accreditation Procedure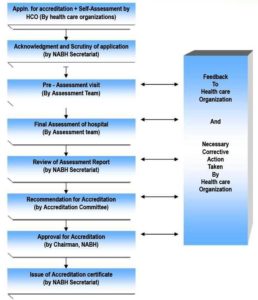 BRIEF SCOPE OF SERVICE:
Details are described in separate document but brief is as follows:
Gap analysis on hospital planning, design and system as per the accreditation requirement. We provide solution on our findings
To counsel the hospital management on selection of resources, infrastructure development and to facilitate NABH accreditation process
Finalization of NABH scope, preparation and submission of NABH application
Planning, designating continuous quality improvement system design and development and ensure that NABH accreditation requirement is met
NABH Manual preparation and assisting you in preparation of 4 level NABH System document as per requirement of NABH standard
To discuss, design and development of health care quality standard with all the concerned department and render necessary consultancy support
NABH awareness on general requirement of the standard for top and middle management personnel
Preparation of total training plan as per NABH requirement and assisting your internal faculty for conducting training
Conducting internal audit training for your people by the undersigned and assisting internal auditors in conducting internal audit and its report preparation
To guide you in all the implementation process up to NABH assessment
---