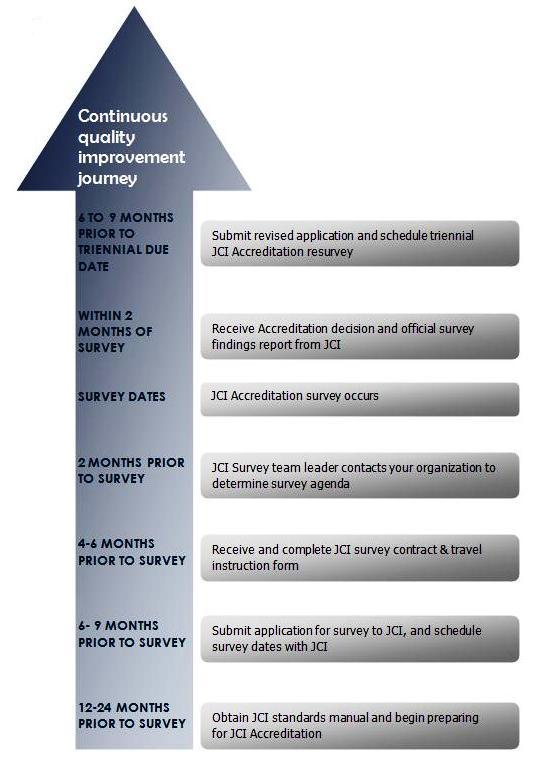 As the International division of Joint Commission Resources, Joint Commission International (JCI) has been working with health care organizations, ministries of health, and global organizations in over 80 countries since 1994.
Our focus is on improving the safety of patient care through the provision of accreditation and certification services as well as through advisory and educational services aimed at helping organizations implement practical and sustainable solutions. In September 2007, JCI received accreditation by the International Society for Quality in Health Care (ISQua). Accreditation by ISQua provides assurance that the standards, training and processes used by JCI to survey the performance of health care organizations meet the highest international benchmarks for accreditation entities.
In fact, the world's first World Health Organization (WHO) Collaborating Centre, dedicated exclusively to patient safety solutions, is a joint partnership between the WHO, The Joint Commission, and JCI.

International Accreditation and Certification:
2009 marks the tenth anniversary of the first hospital accredited by JCI, Hospital Israelite Albert Einstein, a private, non-profit, non-governmental facility in Sao Paulo, Brazil. Since then, more than 300 public and private health care organizations in 39 countries have been accredited by JCI. JCI provides accreditation for hospitals, ambulatory care facilities, clinical laboratories, care continuum services, medical transport organizations, and primary care services, as well as certification for disease or condition specific care. Our standards were developed by international health care experts and set uniform, achievable expectations.
Through JCI accreditation and certification, health care organizations have access to a variety of resources and services that connect them with the international community: an international quality measurement system for benchmarking; risk reduction strategies and best practices; tactics to reduce adverse events, and the annual Executive Briefing Programs.
The JCI Advantage:
JCI is a recognized world leader in health care quality and patient safety. Our consultants and surveyors are highly trained clinicians and advocates for patient safety.
Our focus is on health care quality improvement and patient safety with expertise in infection control, medication safety, facility safety, and accreditation preparation.
JCI's standards were developed by health care experts from around the world and were tested in every world region.
JCI's accreditation decisions are made by an international committee of health care experts.
JCI Advisory Councils in Europe, the Middle East, and Asia Pacific are made up of health care leaders who provide guidance on key patient safety and quality issues.
Our highly skilled staff brings innovative, yet practical solutions to help organizations address their most challenging patient safety issues.
Our Consultancy Scope of Services
Gap analysis on hospital planning, design and system as per the accreditation requirement. We provide solution on our findings.
To counsel the hospital management on selection of resources, infrastructure development and to facilitate JCI accreditation process.
Finalization of JCI Accreditation scope, preparation and submission of JCI application.
Planning, designing continuous quality improvement system design and development and ensure that JCI accreditation requirement is met.
JCI Quality Manual, patient safety manual, infection control manual preparation and assisting you in preparation of 4 level JCI System document as per requirement of JCI standard.
To discuss, design and development of health care quality standard with all the concerned department and render necessary consultancy support.
JCI awareness on general requirement of the standard for top and middle management personnel.
Preparation of total training plan as per JCI requirement and assisting your internal faculty for conducting training.
Conducting training on JCI standard requirement, self assessment, internal audit training for your people by the undersigned and assisting Internal auditors in
conducting Internal audit and its report preparation.
To guide you in all the implementation process up to JCI assessment.
All support is onsite and offsite basis, in the offsite support, we provide consultancy through remote meeting software.